We are delighted to announce a medical education project by Qpercom and the College of Anaesthetists of Ireland (CAI) has been shortlisted for a total of four industry awards in 2017 and 2018. The aim of the project was to design a technological framework to support implementation of a competency-based training and assessment system for post-graduate training within the CAI. The outcome was a Data Management System for Entrustable Professional Activities (EPAs), with a mobile application for recording feedback in the clinical workplace.
The award categories are eHealth Innovation, Digital Project, Best Use of Information Technology and Licence2Market from four separate groups; Irish Medtech Association, Information Technology Association Galway, Irish Healthcare Awards and Knowledge Transfer Ireland Impact Awards. The award shortlistings is a recognition of the extensive research and development, with the aim of enhancing the standard of medical education assessment.
The Entrustable Professional Activities (EPAs) Management System and the mobile application for recording feedback in the workplace provide an integrated solution for the CAI. Between them, they are designed to enhance feedback practice and to improve the quality of training and ultimately, patient care. Within Qpercom, the project was directed by José Silva (Senior Software Engineer), and Enda Griffin (Learning Technologist). This project was funded by the National Doctors Training and Planning Development Programme (NDTP) of the HSE and the College of Anaesthetists of Ireland.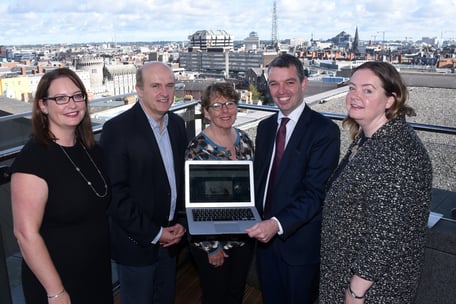 Competency Framework Working Group, The College of Anaesthetists of Ireland
Competency-based education is dominating reform in specialist medical training around the world. Until now, it has been difficult to define exactly when medical specialist trainees could be 'entrusted' to perform a specialised clinical activity independently. EPAs provide a framework for addressing that challenge. The EPA Management System tags competencies to the Domains of Professional Practice of the Medical Council and blueprints them to Feedback tools. The app then provides an effective means of recording feedback for educators and trainees in busy clinical environments – a much-needed development.
Qpercom has incorporated a version of the EPA Management System, named Qpercom Entrust, into its range of assessment solutions. The use of feedback as a learning tool can now be an integral element of any curriculum, for any organisation that takes assessment seriously. These award shortlistings highlight the value of this innovation in improving clinical skills training and assessment and ultimately enhancing the quality of patient care.
Quote from CAI:
"With the advent of competency-based education (CBE), traditional assessment techniques are being disrupted globally. Innovation and a commitment to improving patient care are at the core of everything we do at the College of Anaesthetists of Ireland. We are proud to partner with Qpercom in developing this system to support the assessment of the next generation of Consultant Doctors in Anaesthesia, Intensive Care and Pain Medicine" Martin Mc Cormack, Chief Executive Officer, College of Anaesthetists of Ireland
For more information or to submit a request for research collaboration email info@qpercom.com